Is your child looking for a new hobby or sport to participate in? Do they want to combine the best of both dance and tumbling? Go for the Olympic gold in the gymnastics program from Fancy Feet Dance Studio! Cartwheels, round-offs, back handsprings, and aerials are just a few of the exciting tricks students will learn in our thrilling acrobatics class. If your child is interested in dance, they can even showcase their new skills in a specialized dance routine. Discover the techniques of floor gymnastics with our age-appropriate curriculum.
Learn more about gymnastics and what our program has to offer, then register your child at the Fancy Feet location nearest you in the Bronx or Fleetwood.
Benefits of Learning Gymnastics
Did you know that gymnastics is more than just a hobby or sport? It has many lifelong benefits to offer children, including:

Improved focus, discipline, problem-solving skills, and coordination

Boosted confidence AND sense of pride

Healthy form of exercise that enhances strength and flexibility

Ample opportunities for social interaction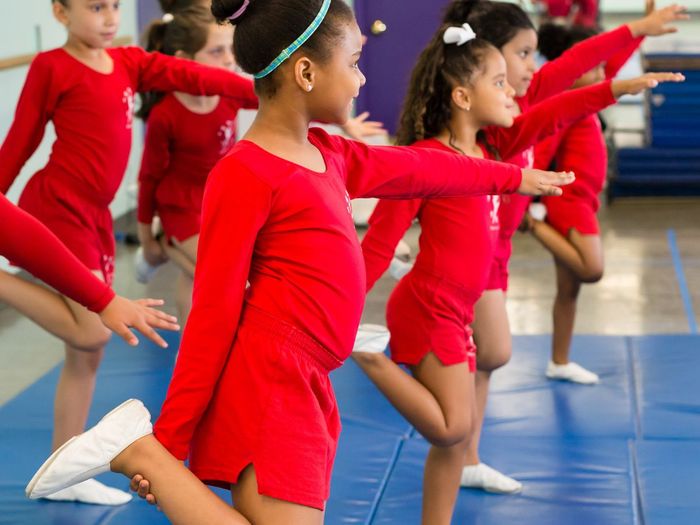 How Children Can Prepare for Our Gymnastics Program
Before starting our gymnastics program, there are several ways that children can prepare themselves for success. A crucial step is to develop a fitness routine that includes stretching, strength-building exercises, and cardio activities to increase endurance. Children can also benefit from mentally preparing themselves for the rigorous physical activity they will experience by setting realistic goals and a positive mindset. Persistence, drive, and patience are fundamentally important!
We require appropriate acrobatics attire for our classes to ensure a comfortable and safe experience, allowing for flexibility and mobility. The uniform for this class is a red leotard with red shorts and white gymnastic shoes. As with any new sport, practice and hard work will help your child reach their goals!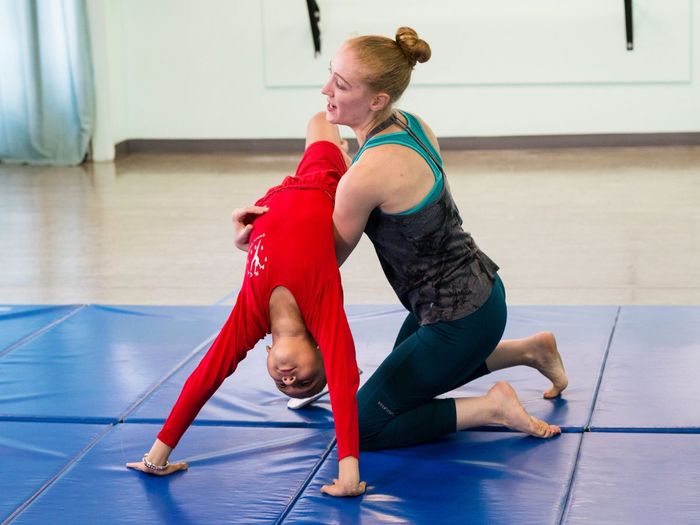 Experienced Gymnastics Instructors
At Fancy Feet Dance Studio, we're proud to have the most talented team of expert gymnastics instructors in New York. Our faculty shares a common teaching philosophy that emphasizes the significance of providing exceptional dance and acrobatics instruction to our students. No matter which instructor your child trains under, you can expect them to be experienced, devoted, and passionate about the art of gymnastics. At Fancy Feet, our instructors are committed to providing high-quality gymnastics education to students of all ages, fostering an inviting and supportive learning atmosphere.
Why You Should Consider Gymnastics for Your Child
Are you trying to decide whether gymnastics is the right sport for your child? The following are just a few reasons why you should consider registering your child in our classes:

Supports healthy mental & physical well-being

Allows them to develop their social skills further

Increases their ability to concentrate & focus

Helps them refine their coordination & flexibility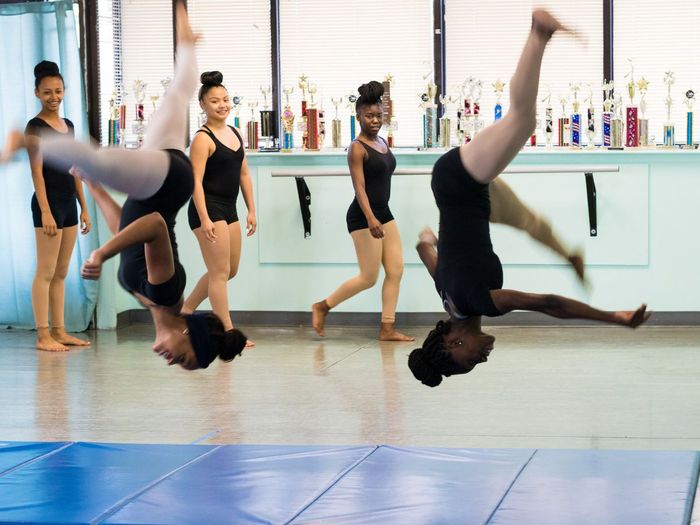 What Makes Fancy Feet Dance Studio Different
At Fancy Feet Dance Studio, we take a distinctive teaching approach to dance and acrobatics instruction, which separates us from other dance studios. We offer a welcoming, enthusiastic, and uplifting environment that enables children to learn, grow, and express themselves through dance. With many dance programs available, students can find their niche, explore, and develop a passion for dance. Our programs provide various opportunities for recreational, competitive, and professional development, encouraging children to flourish as dancers and gymnasts.
As part of our commitment to the community, our dance instructors regularly contribute their time and expertise to local schools. Furthermore, all the proceeds from our dance recitals are donated to the Ronald McDonald House.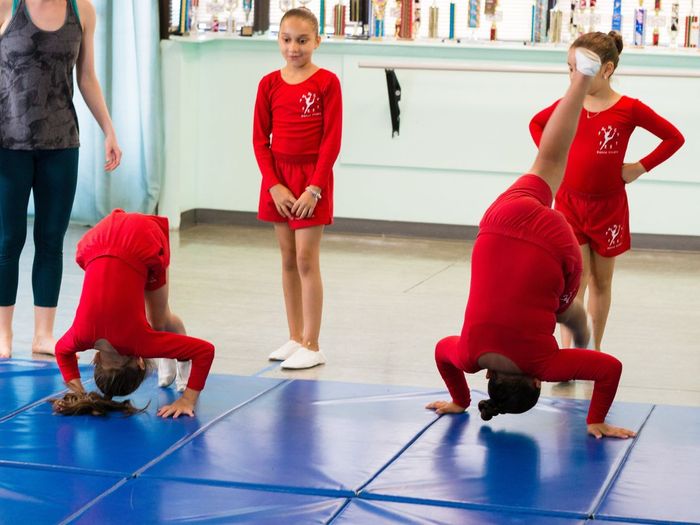 Dance Studios Throughout the Bronx and Fleetwood
If you're searching for the best dance and gymnastics studio in the Bronx, Fancy Feet is the perfect choice. For over 40 years, we've provided the area's best dance and gymnastics classes. With multiple locations in the Bronx and Fleetwood, our studio makes it easy to find an excellent gymnastics studio for your child. No matter which one you choose for your child's lessons, trust that they will receive professional instruction from experienced and knowledgeable instructors. At Fancy Feet, we strive to provide exceptional gymnastics education in a friendly and supportive environment that encourages our students to grow and develop to their fullest potential.
Register for Gymnastics Today
If your child wants to participate in our thrilling gymnastics program, allow us at Fancy Feet Dance Studio to teach them everything they need to know to succeed. We offer gymnastics classes at all four locations, so register at the dance studio nearest you today to begin.