Mommy And Me Dance Classes
Mommy And Me Dance Classes
Toddler Dance Classes in the Bronx and Fleetwood
Bounce, Groove, and Bond With Your Toddler Through Dance
Few things in life are as heartwarming and precious as the smiles and laughter from your little one. With Mommy and Me dance classes at Fancy Feet Studio, you can join the fun as your toddler moves along to energetic songs during activities such as jumping on a small trampoline (complete with safety hand bar), connecting hand motions to children's song lyrics, walking across a short balance beam, and more! Not only will your child have a blast in our toddler dance classes, but they will also learn important physical and personal skills, including balance, coordination, rhythm, socialization, and self expression, just to name a few. Perhaps one of the greatest benefits is that all of this development is happening with you by their side, sharing in treasured memories that will last a lifetime.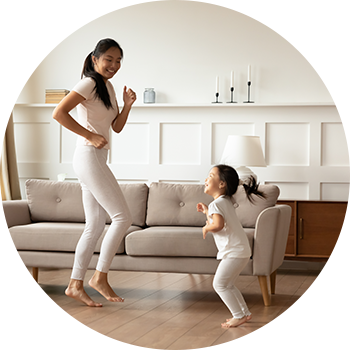 Why Join Our Mommy and Me Toddler Dance Classes?
No-pressure introduction to dance for your little one

Safe, clean environment with protective mats
All classes supervised by our professional dance instructors
Participate in your child's early childhood development
Low-stress, guided activity for busy moms
Encourage your child to make new friends
Meet and connect with other moms of toddlers
Support Your Child's Early Development With Age-Friendly Toddler Dance Classes
Mommy and Me dance classes at Fancy Feet Dance Studio are specially designed to work with the developing motor skills of your toddler for a safe and enjoyable experience. As your little one learns and progresses through our exercises based on the fundamentals of dance and gymnastics, you will enjoy seeing their faces light up with joyful smiles as they reach developmental milestones in balance, coordination, and strength. This class is sure to be full of moments you will cherish forever!
Our toddler dance classes are a great starting point for future dancers. If your child is always bouncing along to music in the car or attempting to somersault on the carpet, you may have a budding ballerina or junior gymnast on your hands! Enrolling your toddler in the Mommy and Me dance class at Fancy Feet is an excellent way to foster a passion for dance or gymnastics at an early age without competitive pressure. It is also a positive opportunity for your little one to learn body awareness, self-confidence, and physical independence.
With locations in Allerton, Crosby, Fleetwood, and Unionport, Fancy Feet Dance Studio is an accessible option for busy moms in the Bronx and Fleetwood. Sign up today!
At Fancy Feet Dance Studio, the happiness and well being of our clients is what we prioritize. You'll see that many of our students and their parents have had great experiences when working with Fancy Feet Studio. If you're interested in learning more about the classes that we offer or have any questions that we can provide clarity on, don't hesitate to reach out to us and we'll make sure that you're taken care of. Feel free to browse our Allerton, Crosby, Fleetwood, and Unionport dance schedules online today.